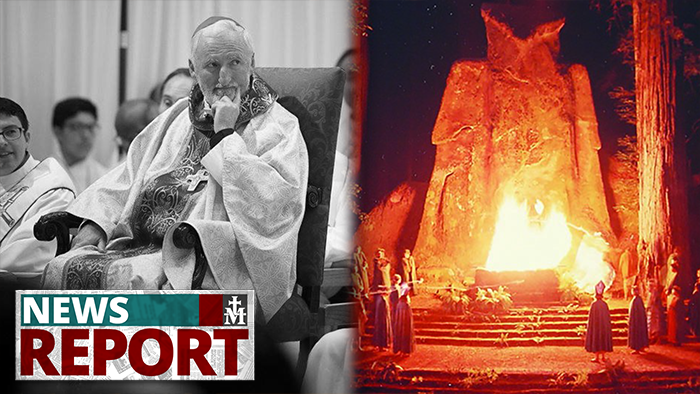 BREAKING: LOS ANGELES BISHOP DAVID O'CONNELL EXECUTED?
February 25, 2023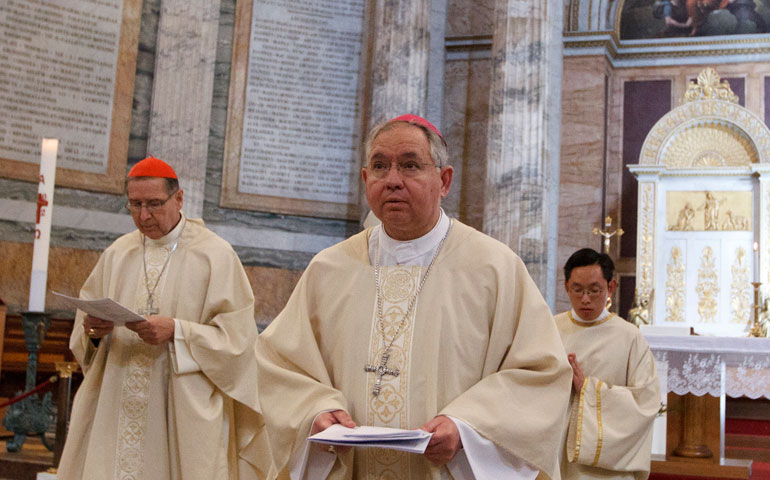 Catholic Church in California grapples with over 3,000 child abuse lawsuits
June 4, 2023
A group of conservative Colorado Catholics has spent millions of dollars to buy mobile app tracking data that identified priests who used gay dating and hookup apps and then shared it with bishops around the country.
The secretive effort was the work of a Denver nonprofit called Catholic Laity and Clergy for Renewal, whose trustees are philanthropists Mark Bauman, John Martin and Tim Reichert, according to public records, an audio recording of the nonprofit's president discussing its mission and other documents. The use of data is emblematic of a new surveillance frontier in which private individuals can potentially track other Americans' locations and activities using commercially available information. No U.S. data privacy laws prohibit the sale of this data. 
The project's aim, according to tax records, is to "empower the church to carry out its mission" by giving bishops "evidence-based resources" with which to identify weaknesses in how they train priests.
In response to requests for comment and a detailed list of questions, a spokesperson for Catholic Laity and Clergy for Renewal initially said the group's president, Jayd Henricks, would agree to an interview at a certain time, but Henricks did not call or return several messages seeking comment. After The Washington Post reached out again, Henricks on Wednesday posted a first-person piece on the site First Things, saying he was proud to be part of the group, whose purpose was "to love the Church and to help the Church to be holy, with every tool she could be given," including data. He wrote that the group has done other research, in addition to the analysis of dating and hookup apps.
The Post interviewed two people with firsthand knowledge of the project, heard an audio recording of Henricks discussing it, and reviewed documents that were prepared for bishops as well as public records. One of the two people works for the church and spoke on the condition of anonymity because they were not authorized to talk about it. The second person is active in the church in Colorado, knows some of the project's organizers, and spoke on the condition of anonymity because the project is not supposed to be public. Both disapprove of the project because they see it as spying and coercive in ways that are damaging to priest-bishop relations and to the reputation of the Catholic Church and thus its ability to evangelize. They also see the project as taking a simplistic approach to morality that they call un-Catholic. Case of high-ranking cleric allegedly tracked on Grindr app poses Rorschach test for Catholics
Some of the men who are part of the Renewal project were also involved in the July 2021 outing of a prominent priest, Monsignor Jeffrey Burrill, according to the two people with firsthand knowledge of the project and comments by the group's president on the audio recording. Burrill, who declined to comment for this story, resigned from his post as the top administrator at the U.S. Conference of Catholic Bishops (USCCB) after a Catholic news site, the Pillar, said it had mobile app data showing he was a regular on Grindr and had gone to a gay bar and a gay bathhouse and spa. The Pillar did not say where its data came from.
The anonymous tracking of a gay priest through his phone made news around the world, with critics calling it a kind of weaponized, anti-gay surveillance.
Until now, the people behind Burrill's outing and the extent of the project were not public, nor was the fact that the effort continued — for at least another year after that incident, according to the people familiar with it and documents.
"The power of this story is that you don't often see where these practices are linked to a specific person or group of people. Here, you can clearly see the link," said Justin Sherman, a senior fellow at Duke University's public policy school, who focuses on data privacy issues. The number of data privacy laws in the country, he said, "you can count them on one or two hands." 
Monsignor Jeffrey Burrill, seen in 2018, resigned as the general secretary of the U.S. Conference of Catholic Bishops in 2021.© Bob Roller/Catholic News Service
According to two separate reports prepared for bishops and reviewed by The Post, the group says it obtained data that spans 2018 through 2021 for multiple dating and hookup apps including Grindr, Scruff, Growlr and Jack'd, all used by gay men, as well as OkCupid, a major site for people of various sexualities. But most of the data appears to be from Grindr, and those familiar with the project said the organizers' focus was gay priests.
In the First Things piece, Henricks said: "It's not about straight or gay priests and seminarians. It's about behavior that harms everyone involved, at some level and in some way, and is a witness against the ministry of the Church."
One report prepared for bishops says the group's sources are data brokers who got the information from ad exchanges, which are sites where ads are bought and sold in real time, like a stock market. The group cross-referenced location data from the apps and other details with locations of church residences, workplaces and seminaries to find clergy who were allegedly active on the apps, according to one of the reports and also the audiotape of the group's president.
Sherman said police departments have bought data about citizens instead of seeking a warrant, domestic abusers have accessed data about their victims, and antiabortion activists have used data to target people who visit clinics.
But Bennett Cyphers, a special adviser to the Electronic Frontier Foundation, a digital rights organization, said the Burrill story was the first time he had heard of a private group buying commercial data and using it against a specific individual.
"It was the first needle-in-a-haystack case, where someone sifts through millions of locations in apps and looks for one person and then tries to use that info to impeach them," Cyphers said. "It was a character assassination of a private citizen for some kind of political reason based on information [the citizen] didn't know they were being tracked on."
Still, some have celebrated Burrill's outing as a way to purify the church by making other clerics more fearful of breaking their promise of celibacy.
The Rev. Gerald Murray, a New York City canon lawyer who offers church commentary on the Catholic channel EWTN and Fox News, said Burrill being a priest in a prominent role makes any misbehavior "a much greater scandal" and essentially eliminates his right to privacy.
"The promise of celibacy is a public act, it's not a private commitment. It's of public interest when those are violated in a scandalous way," he said. Data brokers are selling your secrets. How states are trying to stop them.
The Renewal group has spent at least $4 million, according to the recording of Henricks, and approached more than a dozen bishops with the information. It's not clear what impact the project is having on clergy who the data suggests have actively used a dating or hookup app on their phone. Except for Burrill, it is not known whether the data has led to the resignation or termination of any other priests or seminarians. One of the two people familiar with the project said people may be kept from promotions or wind up in early retirement but not know why.
The project's existence reflects a newly empowered American Catholic right wing that sees enforcing its interpretation of church teaching on sexuality and gender as an existential issue for the church and that no longer trusts bishops to do so. It is a flip of traditional church power dynamics, with the Colorado laypeople in a position to pressure bishops.
At the most intimate level, it shows a new generation of surveillance technology moving into different realms, now including the religious.
"Revealing information that harms a person's reputation without an objectively valid reason — even if it's true — is considered a sin," said a member of the USCCB who knows Burrill and watched the monsignor experience "intense emotional distress" when his orientation and use of Grindr were made public in 2021. This person spoke on the condition of anonymity because of their working relationship with bishops. This person had heard about the data project before the Burrill news from another person who was approached by the nonprofit who told the USCCB member the effort was mainly focused on exposing gay priests.
A data project
In 2018, a man "concerned with reforming the Catholic clergy" approached a few Catholic organizations, including the Catholic News Agency, according to a cryptic article CNA published the day before the Burrill story broke.
That 2018 pitch, CNA reported, "was to provide this information privately to Church officials in the hopes that they would discipline or remove those found to be using these technologies to violate their clerical vows and possibly bring scandal to the Church." CNA had declined the man's offer, the story said, "but there are reports this week that information targeting allegedly active homosexual priests may become public."
Catholic Laity and Clergy for Renewal opened for business in June 2019, incorporation records show. The nonprofit was created to "support the commitment of Roman Catholic clergy to living the teachings of the church," its 2019 tax filing states. Its purpose is "to work systematically with bishops, priests, religious and seminarians to … provide evidence-based resources to bishops that enable them to effectively judge and support quality formation practices, and [to] identify weaknesses in current formation practices and priestly life."
It's not clear if or how the Renewal group is connected to the man who approached CNA.
Bauman, Martin and Reichert are listed as trustees on the nonprofit's tax filings for the two years they are publicly available.
Martin is a co-founder of one of the largest natural gas producers in the western United States, McMurry Oil Co. He supports many charitable efforts through his and his wife's Martin Family Foundation. Those include his co-founding of the Amazing Parish, a national consulting firm to help improve parishes, and major donations to the causes of campus evangelization, antiabortion, anti-poverty and religious education. He contributed $555,000 to Catholic Laity and Clergy for Renewal over two years, tax records show.
Bauman is a former entertainment company executive who is now president of the board of Christ in the City, a nonprofit organization that trains missionaries and serves the homeless. He is a benefactor of some of the same Denver-area groups as Martin and Reichert, including Catholic Charities and Focus campus ministry. He did not donate money to the Renewal group in 2019 or 2020, according to tax documents.
Reichert is the founder of Economics Partners, a consulting firm that employs dozens of economists. He ran unsuccessfully for Congress last year in the central 7th District as a Republican. With his wife, he gives major gifts to Catholic Charities, Mother Teresa's order Missionaries of Charity and college evangelization. The couple also gave $600,000 to Catholic Laity and Clergy for Renewal over two years, according to the group's tax returns.
In a speech last year given to a Catholic Charities men's breakfast, Reichert said Christians need to oppose false ideas like "post-Christianity" or "pluralism," which he calls a "fool's errand." Instead, he said, they need to boldly proselytize and not worry about being unpopular or canceled. "To be free, one has to be willing to lose one's reputation. That's the way they've set up the game."
According to two people with knowledge of the project, the philanthropists hired Henricks, the former head of government relations for the USCCB, the organized body of Catholic leaders in the United States. Henricks by then had moved from D.C. to Denver to work for the Augustine Institute, a Catholic graduate school. Martin and Bauman have donated to the school. Reichert's wife, Martha, is listed as a staff member there.
Tax documents for Catholic Laity and Clergy for Renewal show revenue of $1.5 million in 2019 and $1.8 million in 2020, the most recent year information is public. Most of the money each year was spent on "data and computing," staff salaries and attorneys' fees.
The law firm representing the group is D.C.-based Schaerr-Jaffe, founded by Gene Schaerr, a member of the Church of Jesus Christ of Latter-day Saints who has called fighting same-sex marriage "a religious duty." Schaerr advises evangelical colleges on how to protect their government funding while upholding practices such as barring LGBTQ student clubs. U.S. bishops' report to Vatican shows a Catholic Church split by politics
In an email to The Post, Schaerr confirmed the group is a client. "My charge was and is to help them ensure that their efforts — which are focused on empowering Catholic bishops to more effectively oversee and mentor their priests and seminarians — comply with all relevant privacy and other laws."
He deferred other questions to the group.
Other donors to the nonprofit include the Catholic Foundation of Northern Colorado, which works in tandem with the Archdiocese of Denver to support its ministries and parishes. The foundation gave the Renewal group $400,000 in the two years for which tax forms are available.
The Catholic Foundation of Northern Colorado did not return messages seeking comment.
Henricks knows many bishops from his previous job with the bishops' conference. According to the person who works for the church and to the audio recording, Henricks's role has been to take the data sets to various bishops and use their knowledge of priests' and seminarians' locations to match the known device locations with actual people.
Henricks wrote in First Things that he shared this information with "a handful of rectors and bishops" and did not make the information available for public use, so as to be able to "have honest and frank conversations with Church leaders, and protect the privacy of those affected."
However, one of the people with knowledge of the project said some bishops felt pressure from the group to take action.
The Post has seen copies of two different reports presented to bishops. One is from the Renewal group to a diocese and the other is the one that the Pillar presented to the USCCB about Burrill. The information in both is mostly about Grindr, although the reports also say they have used data from other gay dating apps Growlr, Scruff and Jack'd, as well as OkCupid.
These dating and hookup apps let people create profiles, search for other users and send private messages back and forth. The apps can use a person's exact location to show them potential matches nearby, in real time, for in-person meetups.
The data covers periods from 2018 to 2021 and the reports include images of certain addresses with location pings marked on top, such as parishes, rectories and seminaries.
The documents The Post reviewed do not name the ad brokers and exchanges where they say the data came from. It isn't clear whether the Renewal donors purchased data directly from brokers, or from someone else who had, or a combination of the two.
According to one of the people familiar with the project and the audio tape, the philanthropists, Henricks and church officials have varying views about how best to use the data.
Some wanted to out the men, like Burrill, believed to have the apps on their phones, the person said.
Others want to use data to work behind the scenes, to monitor the men, perhaps confronting them without saying how their app use was known, or maybe keeping such men from rising in their careers, the person said.
Vulnerable tech
The digital advertising industry has compiled and sold such detailed data for years, claiming that stripping away information like names made it anonymous. Researchers have long shown, however, that it is possible to take a large amount of data for a specific location and re-identify people using additional information such as known addresses, and the outing of Burrill showed the practice in action. This buying and selling of data — from demographics and political beliefs to health information — is a multibillion-dollar, almost unregulated industry, said Sherman of Duke University.
Although no names were in the original data from brokers, it included enough identifying details and location pings that the group was able to analyze it for specific locations and narrow down likely people using the apps. The information the group told bishops they had included: the type of device, the location, the device ID and the internet service provider being used, among other characteristics, according to the reports.
The group also focused on devices that spent multiple nights at a rectory, for example, or if a hookup app was used for a certain number of days in a row in some other church building, such as a seminary or an administrative building. They then tracked other places those devices went according to location information and cross-referenced addresses with public information.
Henricks said in his First Things piece that they were "meticulous" about complying with all applicable laws, including data and privacy ones.
The app companies say they have changed what information they share.
Grindr spokesman Patrick Lenihan told The Post that the company stopped sharing location information in early 2020. The company says it only shares limited information with ad partners now. Grindr has said it asked the Pillar several times to see the data to verify it came from the app but no data was provided.
Growlr said it previously shared location data with advertisers but stopped in May 2022, "in light of potential vulnerabilities that could lead to unintended misuse," said a spokesperson for its owner, the Meet Group.
"Location data, while the user was using the app, was made available to advertisers in real time for the purposes of advertising. Growlr no longer shares GPS location data."
Match Group, which owns OkCupid, says the app did not share that kind of location data during that time and does not currently. "Location data is obfuscated within a kilometer for safety reasons," said Match Group spokeswoman Justine Sacco.
Perry Street Software, which owns Jack'd and Scruff, said in a statement Thursday that it removed third-party ad networks from Scruff in August 2018 and did the same in Feb. 2020 after it acquired Jack'd.
"Ad networks will always implicitly expose location data, which is why today we do all of our advertising in-house and share no data with our advertisers," said Eric Silverberg, CEO of Perry Street Software.
Buying and selling precise location data is still common in the digital ad industry, despite a few bigger apps changing their own policies, said Matt Voda, chief executive of marketing analytics company OptiMine.
Regardless, the data used by the Denver group shows only when and where dating apps have been activated on a phone; they don't prove conversations or in-person meetings took place. That lack of information was cited by critics of the Pillar's 2021 reporting, which said Burrill was guilty of "serial sexual misconduct." The Pillar also described Grindr, which is used by 11 million people around the world each month, as a tool of child predators. The site did note that there was no suggestion or evidence Burrill was in communication with minors.
In 2021, Pillar editor JD Flynn defended their reporting, saying a priest shouldn't be on Grindr for the same reason a priest shouldn't ride alone in a car with a child.
"It seems totally reasonable to say the Church must ask: 'Is there a similar technological analog where no cleric would use such an app because of the way in which an infinitesimally small number of clerics have already been demonstrated to use the app inappropriately?'"
Grindr said the connections are harmful.
"We are infuriated by the actions of these anti-LGBTQ vigilantes. Grindr has and will continue to push the industry to keep bad actors out of the ad tech ecosystem, particularly on behalf of the LGBTQ community," Lenihan said. "All this group is doing is hurting people." A Catholic newsletter promised investigative journalism. Then it outed a priest using Grindr data.
After the Pillar's reporting in 2021 on Burrill, it initially seemed as though the then-anonymous project was about to explode in public across the country.
Three days after the Pillar wrote about Burrill, it published a story saying its analysis of signal data within the Archdiocese of Newark showed "patterns of location-based hookup app use" at various church residences. It said it did not de-anonymize the Newark data.
A few days later, the Pillar reported that its data analysis showed that 32 devices in the Vatican complex put off signals in 2018 from hookup apps.
A Newark spokesperson told The Post that the Pillar provided no actual data or evidence of misconduct and that the matter was being reviewed. The Vatican complex in Rome declined to comment to the Pillar.
After that, the stories stopped.
A Catholic debate
The topic of clergy sexuality has vexed the U.S. Catholic Church for decades. Several prominent expertson clergy sexuality estimate a third of U.S. priests are gay men, who serve a church that teaches being gay is "disordered," in opposition to God's plan. Social conservatives have noted that abuse victims of Catholic clergy in recent decades were mostly male and have tried to paint gay priests as the problem. But professional advocates for abuse survivors say the problem isn't gay priests, but instead a silence and simplification around the topics of celibacy and clergy sexuality that in a minority of cases allows secrets to fester.
The Catholic Church teaches that priests make promises of "celibacy," which falls under the Sixth Commandment (in Catholicism the Sixth Commandment calls for permanent fidelity to your spouse) and literally means they will not marry. Celibacy, Catholicism teaches, is also considered a spiritual discipline created for the good of the church. Church law requires priests not to have sex, but church leaders have long disagreed about what that literally means, long before the complex digital era. Experts disagree whether actions such as having a hookup app on your phone, engaging in sexual talk on an app or watching people have sex at a bathhouse qualify under church law as sex.
"These aren't new issues; the internet is just a new tool. There is a tension between these policies about sins involving the Sixth Commandment, and the fact that [the Church] has never defined that in law. It always shifts and is up to the opinions of moral theologians," said Jennifer Haselberger, a canon lawyer in private practice who worked for several dioceses, including Minneapolis-St. Paul, where she was head of the canonical department.
Simply having Grindr on a phone, as a priest, is not against the Sixth Commandment, she said. Church law "isn't there at all."
Monsignor Fred Easton, a canon lawyer who was top judge for the tribunal of the Archdiocese of Indianapolis, said there is no automatic penalty under the code of canon law against a priest for having a dating app on his phone, but bishops have discretion.
In Burrill's case, after an extended leave, his bishop, William Callahan of La Crosse, Wis., in June appointed Burrill to serve as the parochial administrator of a parish there.
Murray, the New York City priest, noted that church law calls for clerics to "behave with due prudence toward persons whose company can endanger their obligation to observe continence or give rise to scandal among the faithful."
The tracking and outing of Burrill was "a very good thing," he said.
Murray, like many Catholic conservatives, is concerned about increased acceptance of LGBTQ relationships in the church. That said, it's "gaslighting" to call stories focused on Grindr anti-gay, he said. "The issue is unchastity and the scandal given to the people in the pews."
Researchers Magda Jean-Louis, Razzan Nakhlawi, Monika Mathur and Alice Crites, and reporter Gerrit De Vynck contributed to this report.
This story has been updated with a statment from Perry Street Software.