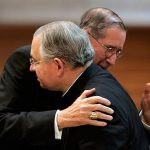 Cardinal Mahony relieved of duties over handling of abuse 
February 1, 2013
Re: Join us at St. Charles Borromeo This Sunday Re: Disgraced Roger Mahony
September 12, 2018
A popular petition on Change.org started by Cleanthechurch.com has triggered an investigation of the Los Angeles Diocese and criminal Cardinal Roger Mahony.
"Since our petition started back in September of 2018, we have been communicating and feeding information to the office of California's State Attorney Xavier Becerra. Our efforts are paying off", said John Paul Norris, one of the volunteer leaders from CleanTheChurch.com
"We were also summoned by the diocese's attorney Margaret Graft who tried to intimidate our volunteers by having ex-FBI agents at the meeting." Continued Norris.
The state attorney general's office will review how the Catholic Archdiocese of Los Angeles handled sexual abuse allegations over the last two decades in a probe that victims advocates say could send shock waves through the religious institution.
A letter, dated Thursday, from Atty. Gen. Xavier Becerra to Archbishop Jose H. Gomez requests that church officials preserve an array of documents related to clergy abuse allegations.
"The California Department of Justice is conducting a review of your archdiocese's handling of sexual misconduct allegations involving children, including whether your archdiocese has adequately reported allegations of sexual misconduct, as required under California's Child Abuse and Neglect Reporting Act," Becerra stated in the letter, reviewed by The Times.
It is no secret. Mahony aided and abetted pedophile, child abusive priests for years. Mahony knowingly harbored, concealed or aided many criminals. He knew of their crimes. He knew of their victims. Instead of calling the police, he manipulated information, moved these criminals from parish to parish and allowed the crimes to continue. He directed priests to hide and leave the Los Angeles jurisdiction and the country to avoid criminal prosecution. According to bishop-accountability.org there have also been two allegations against him.
Let's keep the fight going. It is now time to demand that Attorney General Xavier Becerra does his job.